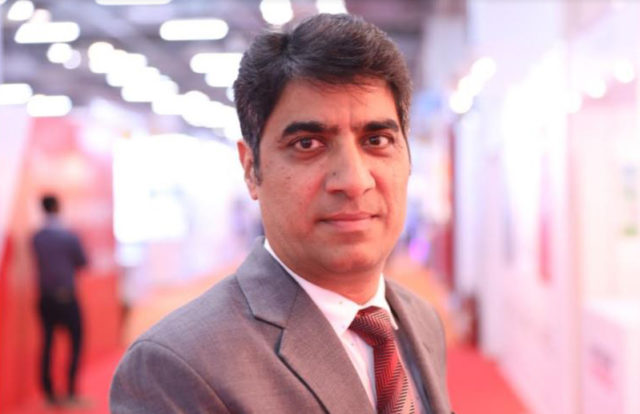 The Indian chapter of NürnbergMesse, one of the fastest growing exhibition companies in Europe, under the tutelage of Sajid Desai will be bringing the it-sa – IT security expo and conference to India on May 24 and 25, 2018. it-sa India will provide a podium for industry experts and solution providers to showcase, discuss, and deliberate on latest technologies in the realm of cybersecurity. In an exclusive interaction with CISO MAG Feature Writer Nishtha Pathak, Sajid Desai, CEO of NürnbergMesse India, unfolds his plan for it-sa  foray in the Indian sub-continent and the cybersecurity trends, it-sa  will be addressing.
The first edition of it-sa India will be centering on digitalization and the cyber landscape. Please elaborate on that.
Cybersecurity landscape in India has changed significantly in the past decade. Previously, basic virus protection and security controls were sufficient to deter threats. However, in the present times, advanced security analytics tools are deployed to prevent advanced persistent threats (APTs) and tackle malicious insiders. Attackers too have evolved with time. Well-funded and technically adept attackers have the capability to bring an entire enterprise or sector to a halt – something that was unimaginable a decade or two ago. As per the information reported to and tracked by Indian Computer Emergency Response Team (CERT-In), security incidents have increased from 44,679 in 2014 to 50,362 in 2016. In the first half of 2017 (till June), 27,482 cybersecurity incidents were already reported. At the other end of the spectrum, transition to digital era has ushered in a new security paradigm at a national level and has brought to fore the challenges of cybersecurity. As India continues to aggressively pursue the Digital India vision, we continue to see significant data breaches and cyberattacks across all sectors. Prevention is possible, and that means prioritising our risks and focusing efforts to minimize those risks is important. it-sa India will provide a perfect platform for Industry experts and solution providers to discuss, deliberate and showcase latest technology which is the need of the hour.
On a scale of 1 to 10, how much will you rate the enthusiasm shown by India for the first CyberSecurity expo?
It's an absolute ten on ten. The industry is looking forward to explore an expo-based model, strongly supported by a high level conference program and workshop focused on training and skill enhancement. Together with our partners Deloitte, Tele Trust, and Techombay the response that we have received for it-sa India is very encouraging. The parent show in Germany, it-sa, is the leading show in Europe on the topic of cybersecurity with more than 620 exhibitors and over 9800 square meters of exhibition space.
How much has India's cybersecurity awareness and practices advanced in the last two years?
In the last four years since the announcement of the Cybersecurity Policy, India's cyber landscape has witnessed growing digitization as part of the Government's Digital India push, as well as more sophisticated cyber threats, particularly the WannaCrypt and Petya ransomware attacks. Enterprises are now investing in next generation firewalls with advanced threat protection capabilities for advanced malware detection, and their spend on cybersecurity now forms over 10% of their IT budget and is growing at a (CAGR) compound annual growth rate of 13.5% annually.
Which sectors/industries would you say are most attentive towards information security?
The banking and financial sector, government and security forces, the telecom and the E-Commerce sector are some of the industries which have already realized the paramount importance of IT and cybersecurity, especially banking and e-commerce as a chunk of transactions take place online and are this more vulnerable to cyber-attacks.
Which sectors/industries would you say are least attentive towards information security?
No industry is safe from cyber attacks. From healthcare and banking to retail, every industry faces cybersecurity threats. While some industries have taken a head start in terms of securing their data and network, others such as Healthcare, Hospitality, Retail and Education are also getting there, and are in the process of implementing processes and safety measures.
What are the two things you would want all businesses to adopt as primary cybersecurity practices?
IT Security and technology advancements need to be aligned to ensure that security dimension of emerging solutions are not compromised. Businesses are willing to adopt new technology and take measures to keep the IT security agile. Convenience and security in technology needs to go hand-in-hand.  An organization irrespective of scale and size should have a strong cybersecurity policy and this should be communicated clearly to the employees.
Which segments of cybersecurity are CISOs planning to target in 2018?
In view of the current scenario, IT-Security Heads and experts would definitely focus on the adoption of more sophisticated security technologies to counter AI powered cyber attacks for example or IoT ransomware attacks. Privacy and personal data protection will be the focus in 2018. Companies are expected to invest in encryption and key management technologies in order to secure customer data. Furthermore, securing organizational data will also be a top priority – whether in physical data centres or in the cloud. Encryption, access control, cloud security, and secure DevOps will be some of the key initiatives in 2018.