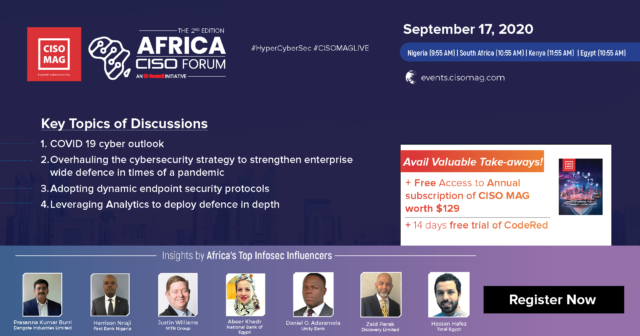 EC-Council's CISO MAG is all set to host the 2nd edition of its Africa CISO Summit on September 17, 2020, where a vibrant mix of senior cybersecurity experts will deliver key insights on how to redefine security frameworks and efficiently mitigate business risks. Over 300 information security leaders from over 100 of the top companies in the region will grace the event.
Registrations are open here.
The event will witness a slew of discussions by Harrison Nnaji, Chief Information Security Officer at First Bank Nigeria; Justin Williams, Executive Group Information Security at MTN Group; Daniel O. Adaramola, Chief Information Security Officer (CISO) at Unity Bank; Zaid Parak, Group Chief Information Security Officer at Discovery Limited; Hassan Hafez, Head of IT at Total Egypt; Prasanna Kumar Burri, Group CIO at Dangote Industries Limited; and Abeer Khedr, Information Security Director at the National Bank of Egypt.
Despite being one of the largest hubs of cybercrime incidents, Africa has leaped forward, thanks to the cybersecurity initiatives taken by both public and private entities. The onset of COVID-19 has also brought to light the reality of evolved and disruptive cyberattacks, which needs to be addressed, thus, placing a major emphasis on the adoption of dynamic technology solutions as well as the development of a future-ready cybersecurity strategy.
With businesses now transitioning into a hyper-connected digital ecosystem and a new remote operational model, the protection of vital business data, financial operations, intellectual properties and critical infrastructure networks are the top priorities. The growing threat profile in the region demands an overhaul of the cybersecurity landscape across the distributed enterprise network to safeguard critical data, sustain enterprise-wide operations, and ensure business continuity.
To ensure the success of a sustainable and digital-first economy, cooperation between the private sector and regulatory entities, skill development, mass awareness, and investments into developing the right cybersecurity framework is crucial.
EC-Council's CISO MAG believes that visionaries in the industry who have dedicated their lives to the cause of creating a secure cyber world will be responsible for bridging this gap. Hence, the event will address the topics that are more relevant to the cybersecurity industry in Africa like the COVID-19 cyber outlook, safeguarding the domestic business community, inclusive capacity building through the right public-private partnerships, overhauling the cybersecurity strategy to strengthen enterprise-wide defense in times of a pandemic, adopting dynamic endpoint security protocols to protect the distributed enterprise network while mitigating risks, and leveraging analytics to deploy defense-in-depth and enable agile business scalability.
To know more about the event, click here.
About CISO MAG 
CISO MAG, an EC-Council initiative, is a cybersecurity magazine delivering cutting-edge updates about the latest happenings in the cybersecurity world. It is a handbook for CISOs, CXOs, and every responsible stakeholder of secure Internet space.
Events information can be found at https://events.cisomag.com/
For more information, contact: 
Name: Deepali Mistry
Email: [email protected]
Phone: +91-9833151933